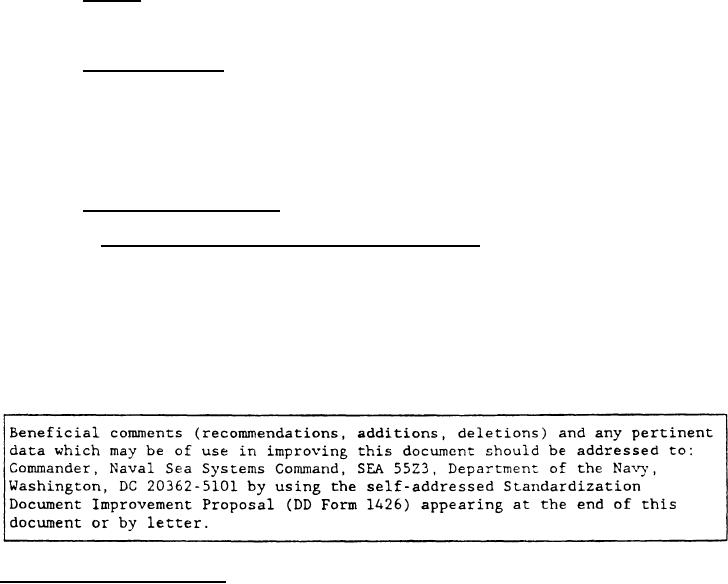 MIL-E-24403/2C(SH)
7 July 1989
SUPERSEDING
MIL-E-24403/2B(SH)
28 August 1985
(See 6.6)
MILITARY SPECIFICATION
ELECTRODES - WELDING, FLUX CORED, LOW-ALLOY STEEL
This specification is approved for use by the Naval Sea Systems Command,
Department of the Navy, and is available for use by all Departments and
Agencies of the Department of Defense.
1.
SCOPE
1.1 Scope. This specification covers low-alloy steel flux cored welding
electrodes for the fabrication of HY-80 and HY-100 steel weldments for as-welded
applications.
1.2 Classification. Electrodes shall be of the types specified (see 3.3)
and shall be of the forms and sizes in accordance with MIL-E-24403. In addition
to the sizes specified in MIL-E-24403, the 0.035-inch size may be used for
MIL-101TC, MIL-101TM, MIL-121TC, and MIL-121TM type electrodes. Also, the 0.068-
and 0.072-inch sizes may be used for self-shielded electrodes.
2.
APPLICABLE DOCUMENTS
2.1 Government documents.
2.1.1 Specifications, standards, and handbooks. The following specifi-
cation, standards, and handbooks form a part of this document to the extent
specified herein. Unless otherwise specified, the issues of these documents are
those listed in the issue of the Department of Defense Index of Specifications and
Standards (DODISS) and supplement thereto, cited in the solicitation (see 6.2).
AMSC N/A
FSC 3439
DISTRIBUTION STATEMENT A.
Approved for public release; distribution is unlimited.
For Parts Inquires call
Parts Hangar, Inc
(727) 493-0744
© Copyright 2015 Integrated Publishing, Inc.
A Service Disabled Veteran Owned Small Business